At the headquarters of Karma International, a variety of services to humanity are supplied. There is the sweet occurrence department, which rewards good behavior. The department of humbling life events, which has a less linear way of assigning karma. And of course, seldom perceived departments who laid the groundwork for it to all come together.

In the basement of the massive building, which existed on celestial plane 7, lived the karma accountants. Few interacted with them directly on the floors above, with the exception of one department; the karma police.

The karma police did not have offices, they worked anonymously. On acceptance of a position within their ranks, the officers undertook a series of solemn oaths. They did not take wives or procreate. For the vulnerability that involves was not something the organization could risk.

They lived as ghosts, wearing cloaking devices whenever they did visit the subterranean portion of Karma HQ. The accountants were the only co-workers they worked with directly, rectifying systematic faults than no other department was equipped to deal with. There was a concealed entry way just for them, a measure that Lordes found excessive. She had been on the force for sixty years.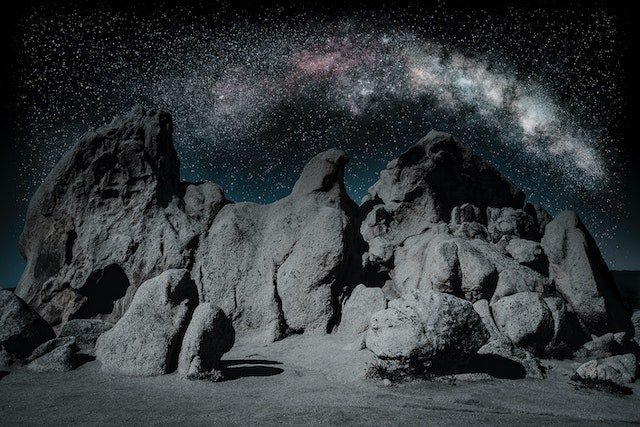 Photo by eberhard grossgasteiger
Nestled within rocks on the opposite side of the planet, the doorway was a source of annoyance to Lordes. Stepping into a wide cavern from the low-profile crack in the stones, she sighed. The cloaking device was hot, the forcefield of energy it projected around her to obscure her identity generated a lot of heat. As she bakes within it, the caverns cool atmosphere is no help at all.
Ahead, the train which transferred the officers to HQ loomed in front of her. She could see a few blurs seated within its cars, scattered about. They never spoke to one another, there was no need to. The karma police all work alone as far as Lordes knew. At least, in her decades of service there had never been a cooperative mission. It was not necessary.
She finds a seat a suitable distance from the other agents, sighing once more. Immortality didn't take away the aches and pains of age, her wrists burned with arthritic affliction. Lately, her jobs had been taking a particularly large toll on her wellness. No point to dwell on it, she thought, retirement was still decades away. Best to put on a positive face.

"What do you mean there is no additional info for inquiry B7GG902?!" Lordes huffed, her voice presented as a British male through the cloaking device. She eyed the accountant who was assigned this batch of humans, who was responsible for the mission she was undertaking, having flagged the human in question for investigation.
He sweats as he answers her, fingering the pocket protector he wears to prevent his ballpoint pens from staining his perfectly white shirt. She's interacted with him before, but he didn't know that. "Well, as I've said, the irregularity is obvious." he gulps a bit, Melvin was not unique in finding the company of the police uncomfortable.
"You know we are forbidden from receiving personal information about the humans." He twists a red pen in his fingertips, a pleading look in his eyes. "There simply was not enough data to draw from to provide any other information." Even though her eyes are a generated illusion, he cannot meet them.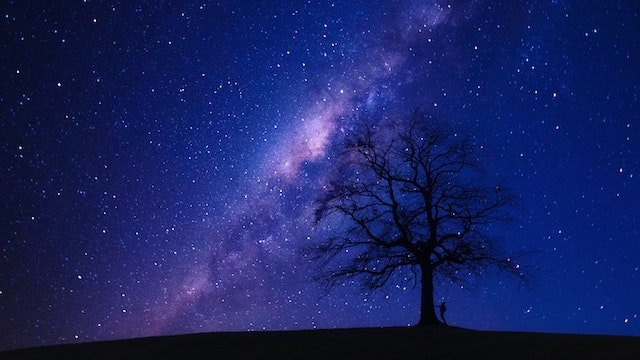 Photo by
Johannes Plenio
"I'm not sure you are understanding the gravity of this situation." Lordes says in the borrowed voice. "I cannot
find
inquiry B7GG902, Parker Mifflin doesn't exist." The words come out too harshly, but honestly, how did Melvin mess up this badly?
For an inquiry to be processed, there needed to be a trail earthside to merit it. Average people who can go along unnoticed were rarely investigated by the karma police. When they were, it was never incredibly difficult to find them, humans are boisterous creatures. Parker Mifflin though? She had been searching for him for a week, and had found no trace of any such person.
"Y-you can't
find him?
" Melvin sputters, his eyes begin to bulge in his round face. "That's not possible, it's just not..." he trails off, shaking his head as worry dominates his expression. He knew as well as Lordes did, that this was absolutely unacceptable. The repercussions for an incomplete mission would fall on them both.

On her train ride out of HQ, Lordes fumes in the sweltering heat of her disguise. Melvin had been almost no help, scrambling to find any data that may have been omitted in the report she received. He had come up with one insubstantial piece, it was now her primary lead.
Three weeks ago, Parker had minorly altered the life of a baby. This was another jab at her ability to stay calm, as you cannot question a baby. They are the worst witnesses, and this had been removed from her report for that reason. Now, she must look for the baby, which she knew the rough location of. It was the only way forward that she had not already exhausted, absurd.
Gratitude floods in when she finally arrives home, stripping the suit off her slick body. She heads first for the bar cart, and next to the shower. Sipping whiskey under the cool steam of the water, she hopes a shower thought will spark a new idea. She was pretty screwed.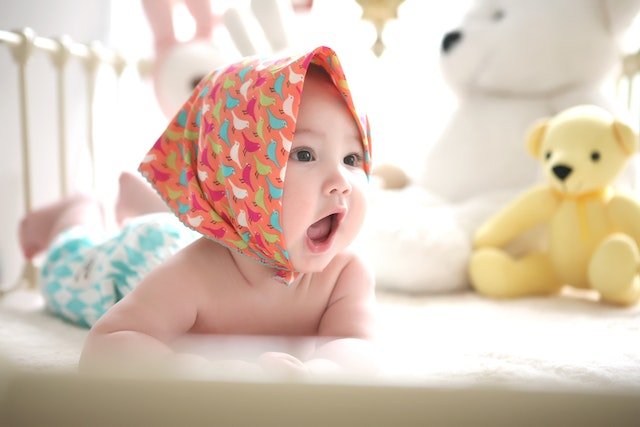 Photo by Pixabay
It takes Lordes an entire day to find the baby, but she does. Her name is Gemma, and she spends most of her time with her mother it seems. It is unclear if there is a father involved, but there is scant evidence of one if so. Lordes follows her, invisible, for days.
Gemma doesn't go to daycare; her mother does not work. It appears she has a good deal of money, as she spends her days with Gemma browsing markets and eating in cafes. Hopelessly, Lordes realizes this is a true dead end, she sees no trace of Parker in these ladies' lives.
It is on day five, when Lordes is ready to report to her superiors that she cannot finish the task, that she sees him. Gemma stares at him the second her mother walks her through the front doors of the library. His kind green eyes light up as he waves to Gemma, it is clear they know each other well.
Right there on his nicely pressed shirt was his name tag, Parker. There you are you slippery devil, Lordes thought, and then he looked right at her. "Welcome miss, do you know which way you're headed?" his voice is smooth like honey on a sore throat. He smiles, unfalteringly welcoming, as she feels disbelief strike her like lightning. This wasn't possible.

Rushing out of the library, she feels her lungs constrict in anxiety. Parker Mifflin had been flagged for causing a series of deaths, it had been indisputable that they were directly his fault. How had this gentle librarian caused such a calamity that Lordes had been called to even the score?
How was he able to see her? No one had ever peered beyond her invisibility device, which thankfully did not involve sweltering heat. She was accustomed to only having to speak to them if she chose to, this was unnerving! She fled from the brick building, as if lions were hunting her nearby.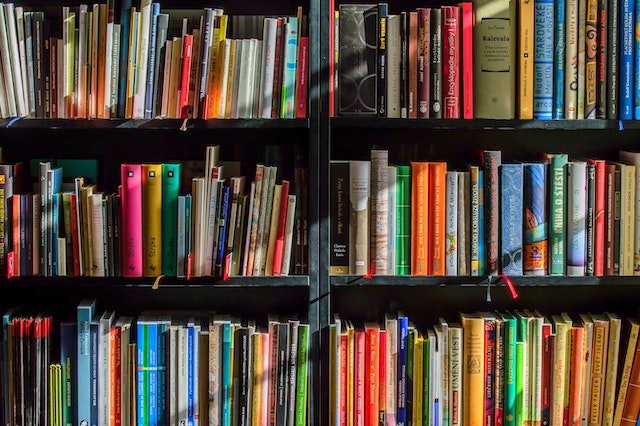 Photo by Pixabay
She watches him from a distance for a week. He is vegan and grows most of his food. He goes out of his way not to harm insects, he tends his plants with a visible love. He volunteers, dishing out plates at a soup kitchen. By all appearances, he is an incredibly kind person. On trash night, he knocks on his elderly neighbor's door, entering the home.
When he exits, he is carrying their rubbish out for them. He is shocking good. Lordes feels lost, how was she supposed to deal out karma to this man, who seemed to deserve everything he had. Reluctantly, she realizes that it is time to speak to him.

"Welcome back! We missed you the other day!" Parker cheerfully greets her, as she walks into the library once more. He beckons her over, "Please come in, we have a book for each set of hands here!" he's so nice it almost feels as if he must be simple. She knows full well that he is not.
Getting as close as she can to the man on the other side of the front desk, she whispers to him. It is clear to his nearby co-workers that whatever she is saying must be mighty odd. He nods to her vigorously, before calling out to them. "I have to take the rest of the day off, there's been an emergency." he shows his palms regretfully. Before he can offer an apology, his coworkers interject. His colleagues clearly like him, they wave him off with assurances that it is no problem.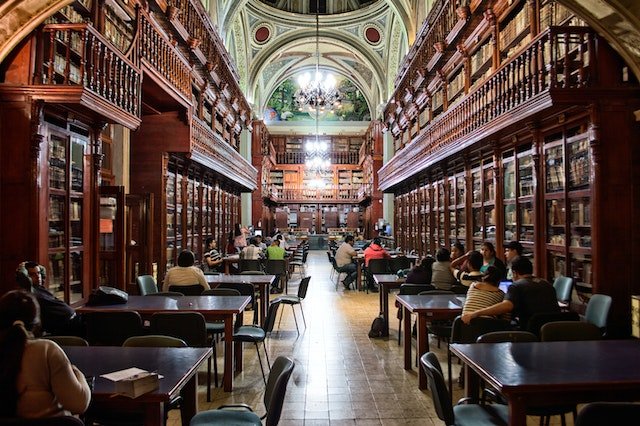 Photo by Genaro Servín
Once they are alone, they begin to walk along a path in the adjacent park. She waits until there is no one within earshot, before she reveals why she has come to find him.
It hurts to see his reaction when she tells him the date that he caused a slew of deaths. He is crying before she has finished the sentence, his shoulders shaking in the effort to do it silently. "That is the day I spent my inheritance." he says, as tears trace his sweet face. "I gave it all away." He shakes his head, "That's the only notable thing I did that day, miss." he's really sobbing now.
"I didn't know... how could I of known?" he pleads with her, grief twisting his guts. She finally connects the dots, why he was so hard to find. He didn't live the life he was assigned; he gave it away. In doing so, he caused what is known as a ripple. A flood of changes that come from an occurrence. This was most unprecedented! What the hell was she supposed to do?
There had never been a time in sixty years that Lordes felt conflicted on her route of action. People tended to not be as complex as they thought they were, moral lines only blurred because they willed them to. Only the fools did wrong without knowing it. Someone causing harm on this scale with a good deed? She had only heard rumors of such things.
"I've never felt guilty for issuing karma, Parker." Lordes says, "I cannot in good faith do that here." she sighs deeply. "I think, the karma of knowing what you did is even too terrible a punishment, but I cannot take it from you now." she says somberly. "Nor can I offer you anything for your intentions, but I have a feeling that's not what you'd want anyhow. You're a good man Parker." She smiles.
"I understand." He says, turning away from her. "I will still be good, lest I ever have to see you again." he throws over his shoulder. The words aren't mean, they are fair. Lordes watches the remarkable man walk off, a fissure forming in her heart.