This week is a colorful one for me. Actually, not only this week, but as announced, these days I want to share with you a few very special photos, each of which shows in a very special way the current so colorful time of the year. Kouyou 紅葉 , the red leaves, as this period of the year is called in Japan, is once again a very colorful and also emotional finish that autumn is currently celebrating.
Among the trees whose leaves will be the first to change color are the various sakuras, the cherry trees, which unfortunately will also be the first to lose their leaves. Even though they may be a little overshadowed by the maple trees, which easily steal the show from the other trees with their often blood-red foliage. Nevertheless, this year they were the perfect mood setter for this time of year for me and when I look back at today's picture, I am immediately on the spot again and succumbed to the magic of the moment.
Of course, you also need a little luck to be in the right place at the right time. Foreground and background seem to be well coordinated and impress with an extremely balanced harmony, which still captivates me at the moment of writing this lines. I would love to stop there again right now to pause, and to just live and breathe in the moment.
But times are fleeting and moments usually never come back. At least not in the original form, and therefore we better be spontaneous and maybe not always wait for a better chance. Let's live the moment and love life. With all our heart and with all our senses!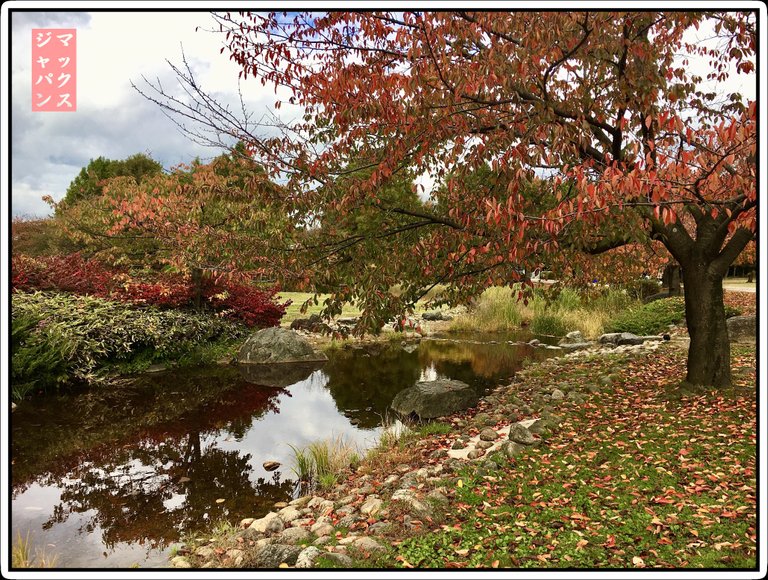 DEUTSCH
Die Woche ist für mich bunt. Eigentlich nicht nur diese Woche, aber wie angekündigt, möchte ich mit euch in diesen Tagen ein paar ganz besondere Fotos teilen, die jedes für sich auf ganz spezielle Weise die derzeitige so bunte Zeit des Jahres zeigen. Kouyou 紅葉 , die roten Blätter, wie dieser Abschnitt des Jahres in Japan genannt wird, ist noch einmal ein ganz farbenfroher und auch emotionaler Abschluss, den der Herbst gerade zelebriert.
Zu den Bäumen, deren Blätter sich als erstes Färben, gehören die verschiedenen Sakuras, die Kirschbäume, die leider auch als Erstes ihre Blätter verlieren werden. Auch wenn sie vielleicht ein wenig im Schatten der Ahornbäume stehen, welche mit ihren oft blutroten Blättern den anderen Bäumen leicht die Schau stehlen tun. Aber für mich waren sie in diesem Jahr die perfekte Einstimmung auf diese Zeit des Jahres und wenn ich auf das heutige Bild zurückschaue, bin ich auch sofort wieder an Ort und Stelle und dem Zauber des Momentes erlegen.
Natürlich braucht man auch ein wenig Glück, um zur richtigen Zeit am richtigen Ort zu sein. Vordergrund und Hintergrund scheinen sich wohl abgesprochen haben, und beeindrucken mit einer äußerst ausgewogenen Harmonie, welche mich auch jetzt noch in ihren Bann zieht. Gerne würde ich genau dort jetzt wieder anhalten und auch innehalten, und einfach nur auf den Augenblick leben und erleben.
Aber Zeiten sind flüchtig und Momente kommen meist nie wieder. Zumindest nicht in der originalen Form, und daher empfiehlt es sich, spontan zu sein und vielleicht nicht immer auf eine bessere Möglichkeit zu warten. Leben wir den Augenblick und lieben wir das Leben. Aus vollem Herzen und mit allen Sinnen!