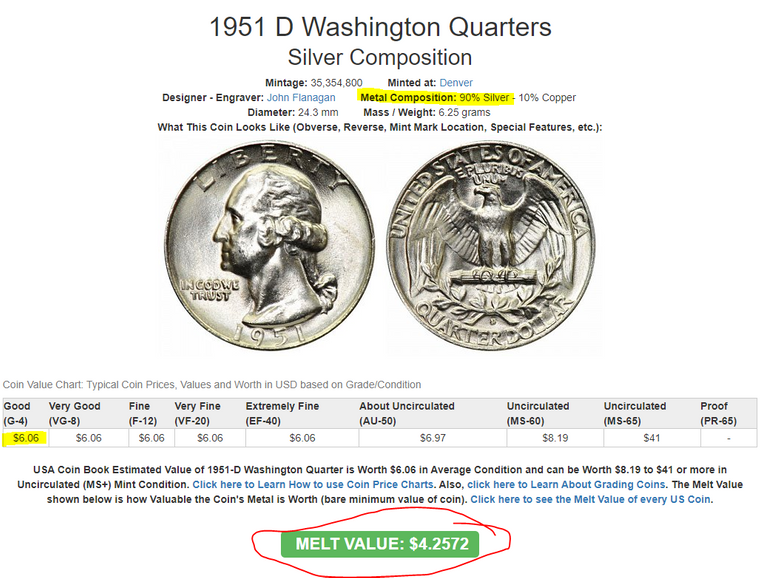 The Facts
The above info is from https://www.usacoinbook.com/item/1951-d-silver-quarter-493870/ and as you can see this 1951 US quarter minded in Denver (D) is made of 90% silver and has a melt value (that's just the value of the silver alone, if melted down) of $4.25.
But let's take a look at one that is in good (G-4) condition.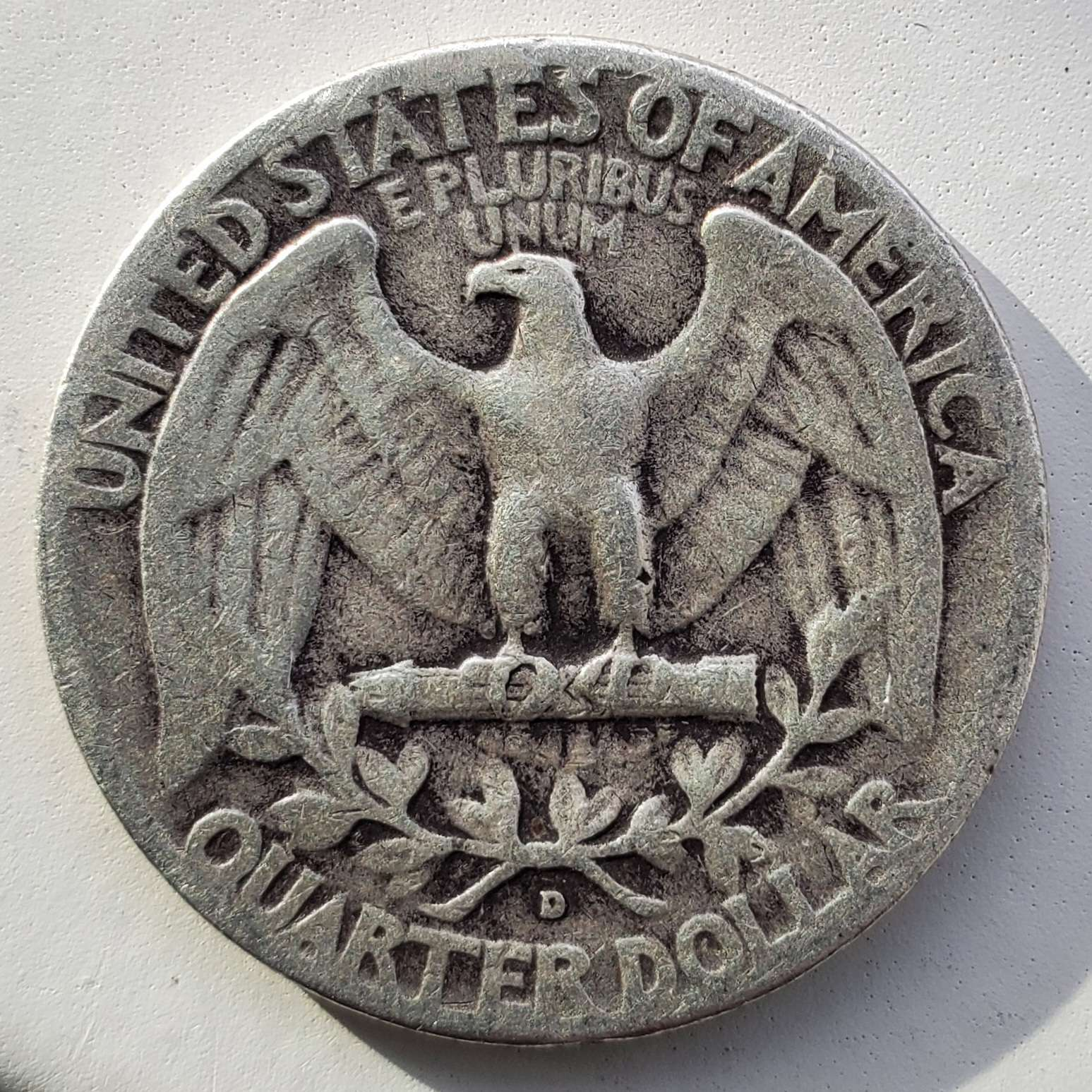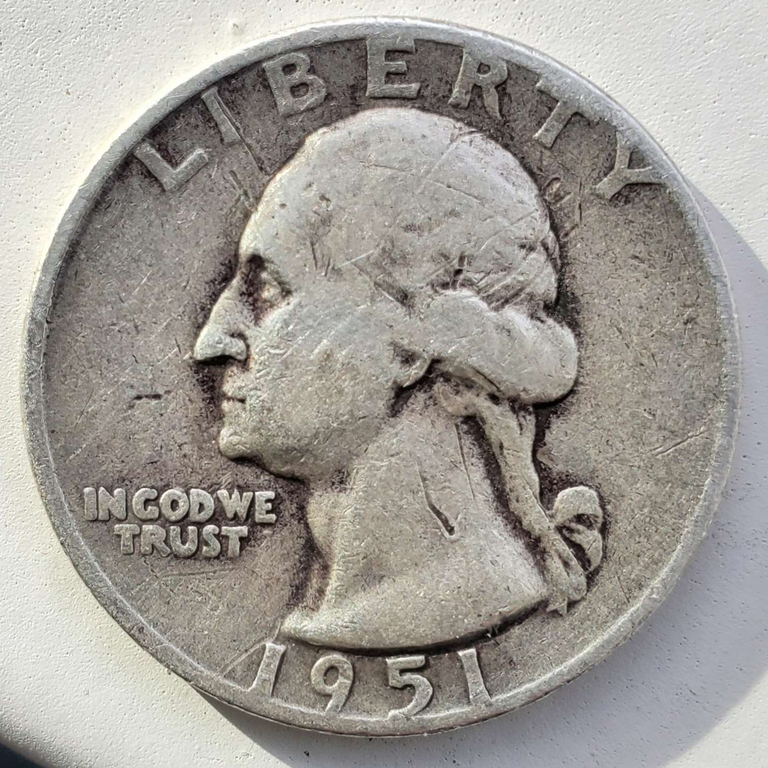 In the 1970s numismatists got together and agreed on a 70-point coin grading scale called the Sheldon Scale
Here are some of the grades the above coin could fit into, which do you think describes this coin best?
(FR-2) Fair - Worn almost smooth but lacking the damage a coin graded Poor usually has. Enough detail must remain to identify the coin.
(G-4) Good - Heavily worn such that inscriptions merge into the rims in places; major features are mostly obliterated.
(VG-8) Very Good- Very worn, but all major design elements are evident, albeit faint. Little if any central detail remains.
(F-12) Fine - Very worn, but wear is even, and overall design elements stand out boldly. Almost fully-separated rims from the field.
I figure good or very good but either way this coin is worth about $6.
The Story
Why am I even talking about this coin today? Well, I got it as change the other day!!!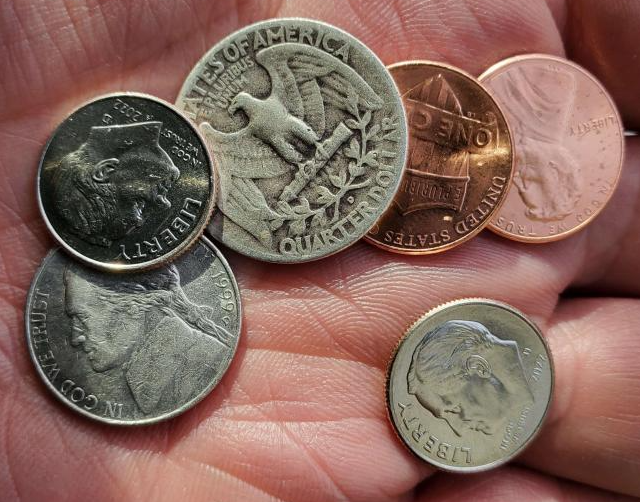 Yep, I stopped at the local squatch market for a six pack of libations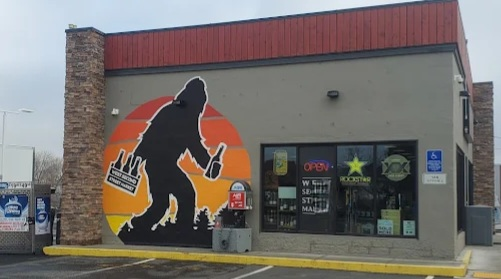 My total was $10.48, I had a 20 dollar bill and gave it to the clerk. When he opened his till, he said under his breath, "bah, no quarters", so I figure 5 dimes and a couple pennies are headed my way, in addition to my $9.
Then I notice he is rummaging around in the drawer and as soon as he picks it up and tosses it into his hand with the other change I hear it!
It's hard to explain but as you could imagine a piece of metal that's 90% silver sounds different than a piece made from 91% copper (new quarters), and as someone who collects old coin I knew the sound immediately.
He hands me my change and I immediately drop it in my pocket and thank him ;)
Most silver coins have been taken out of circulation but there are obviously still some out there, so keep a keen ear friends.

Posted Using LeoFinance Beta