Exciting, intriguing and challenging - Sun does go down in Venice but the charm does not vanish!
Most cities in the world get a kind of 'run out of battery' feel when the sun goes down. Most parts of the city, except the zones famous for nightlife wear that deserted and forlorn look. Venice proved to be an exception for me.. Venice, the eternally romantic city doesn't get gloomy with twilight!!
Silhouettes appear all around me and start beckoning me to explore. The romantic gondola-man by day seems like a character shrouded in mystery from a distant past.. Light plays tricks and everything seems to move in slow motion..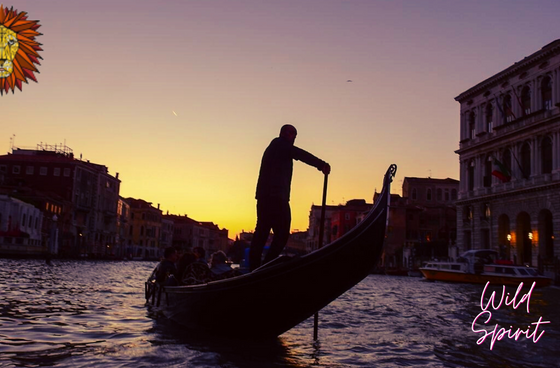 Shadows start lengthening as twilight approaches. The hustle bustle dies down and buildings call out for attention.. The lengthening shadows enhance their beauty in shadowy relief..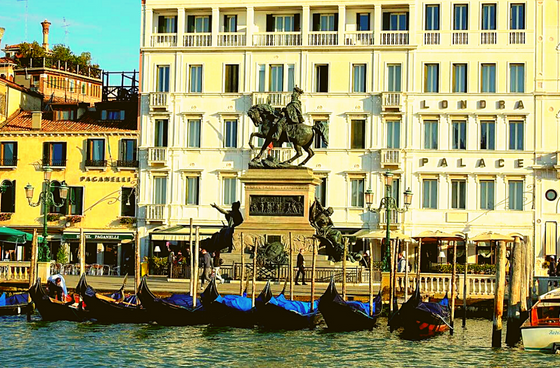 Other buildings, decorated with flower boxes in each window appear even more beautiful in the fading light. The flowers appear out of place but lovely...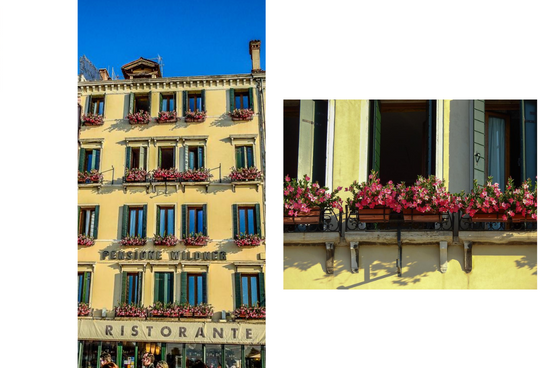 Gondolas, tired from a busy day with tourists, romantic couples and countless trips up and down the canals, get tied down for a night of rest in the fading light. Their shapes form a unique contrast with the glow of the vanishing sun...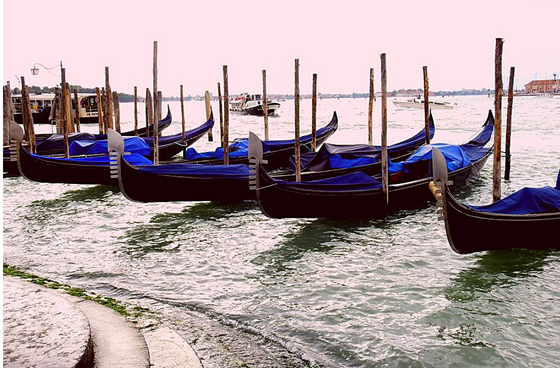 The sun finally disappears below the horizon and the mystique of Venice begins. Venice is famous for it's historic mystery shrouded evening parties. The traditional masks and costumes are still seen in Venice as street artists, adorned with flourishing gowns and masks give us a glimpse of the past...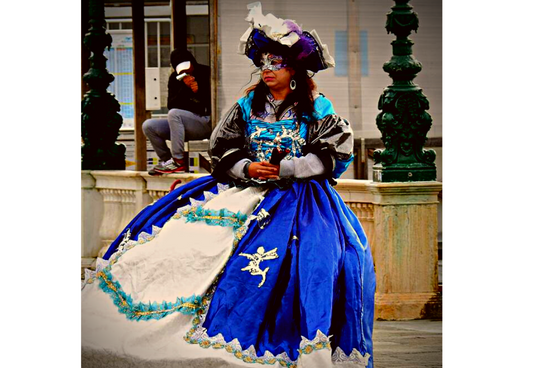 Man made lights spring to life as darkness engulfs Venice. The lights, garish in most cities, somehow seem tame and give an aura of mystery, cloaking the buildings in their partial light.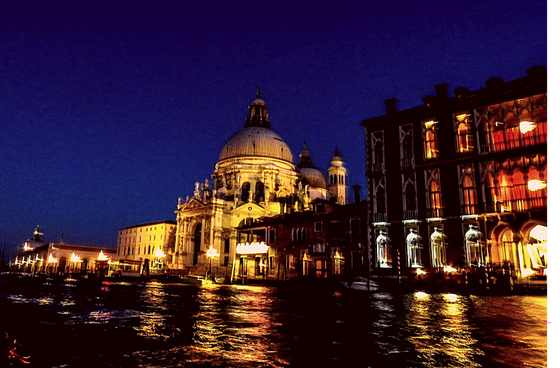 Some buildings have such a fiery glow from within that they transform passing gondolas and their 'pilots' to another world - making them appear like 'Boatman of Hades' from Greek mythology, who ferries the newly arrived souls across the river Styx!😀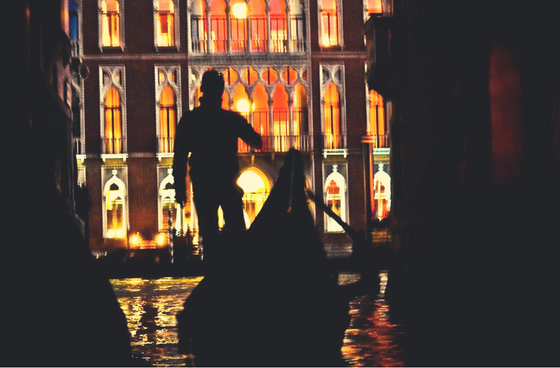 Most of the people who come from mainland retreat back at twilight as the last buses from mainland take off and start shutting down for the night. People throng the restaurants and get off the streets.
However - Empty streets do not appear threatening here. It is, somehow refreshing to walk around in the silent streets with only your own footsteps echoing.
There are many many ghost stories and locations in Venice so locals and tourists alike do avoid roaming around too much at night. However, I was fascinated by the shops and their colorful displays and refused to call it a day...
Color and glamor seems to be the theme of celebrations in Venice. Even the displays of glasses in shops are so colorful...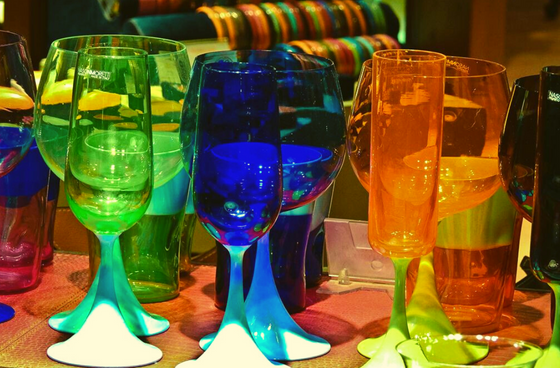 Of course, Murano, a Venetian island, being famous for blown glass art, it is not surprising that we find such colorful glasses here!
Another tradition of Venice, the masks, are also prominently displayed in shops. The displays just took my breath away -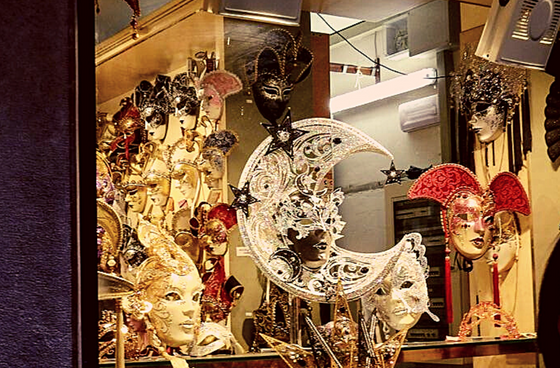 The masks, traditionally allowed Venetian folk to do things anonymously. They could, wearing a mask, do what they want and be who they like. A lady could even masquerade as a man!
Traditionally very simple but having evolved, today these masks are adorned with intricate artwork, jewels and feathers. There are no limits to the artistry displayed in masks..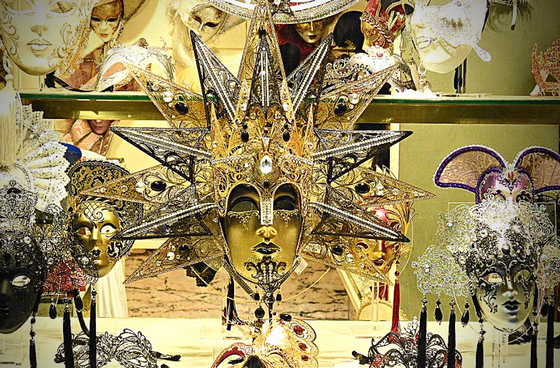 These masks are so famous that even a 'Mask carnival' is held in Venice.
Art flows through the veins of Venice. Even a simple StreetSide restaurant had these lovely artistic lamps.. Wish I could get some like these for my den at home!

Last but not the least - Twilight and night description of Venice is not complete without the ghost stories!
Frankly, I did not have the nerve to go on those 'ghost walks'. There are 4-5 famous 'ghost locations' in Venice but to me, even this magnificent façade with statues, nowhere near those ghost locations, seemed haunted after hearing the ghost stories!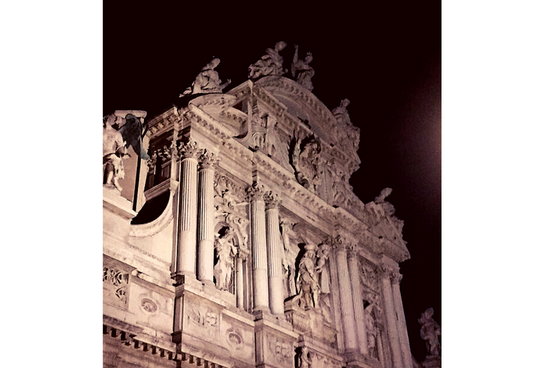 Those statues seemed to move! Perhaps it was the excellent wine which was now in my blood after dinner or perhaps the light was playing tricks but I was not going to take any chances! My wife said she is not afraid of ghosts. "Yes, why would you be - even ghosts are scared of women folk!" quipped I and got cuffed on the head by her for a 'sexist remark'. I apologized but firmly steered her away from the ghost locations - leaving that experience for another day!
This, my friends, was my perspective, a bit 'non-touristy' I guess but none-the-less, important for understanding the magic of Venice! SIGHHHH - I MISS Venice!
Do visit Venice and try to experience for yourself. I would love to hear about your own perspectives and impressions.
Cheers. I hope you enjoyed the glimpse of Venice at twilight, as I saw it. I am a newbie for travel blogs. I look forward to your comments and suggestions.
Have a nice day everyone. Cheers!