Imagine if God spilled some colors from the rainbow on earth below - That is Burano for you. Colorful !!
I had been hearing about this explosion of color on an island near Venice for a long time. Finally, got a chance to go an feast my eyes on beauty of man made buildings... Here is an example and precursor!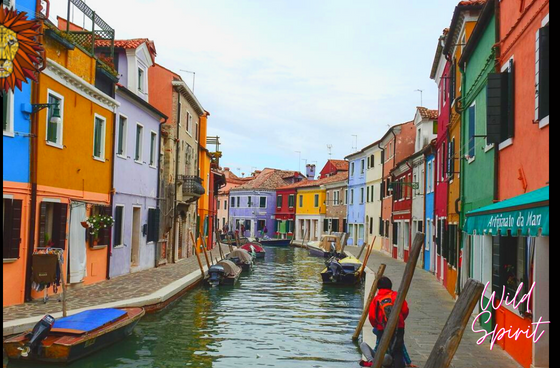 I am not a professional photographer and wildlife photography is my hobby. So - when someone said you must take your camera along and photograph the buildings in Burano islands, my initial reaction was 'Meh..🙄'
However, that lasted only till I set my eyes on the wonder that is Burano!
Let me start at the beginning.
Since we had a couple of days to spare in Venice, a tour of Murano-Burano islands was the natural thing to do. We can buy tickets online for such a tour through sites like Viator or can take a ferry ticket for a round trip and explore on our own.
As we approach Burano islands in the ferry, we are greeted by a quaint skyline with a mandatory tall bell tower reaching for the sky...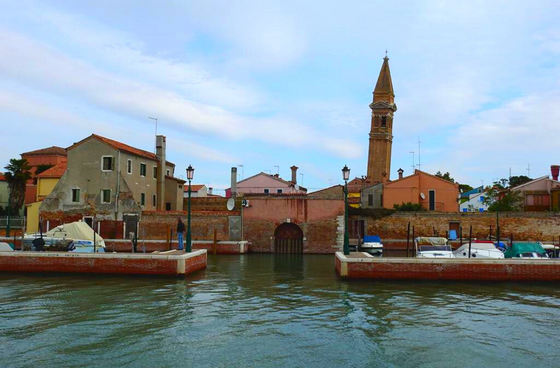 Emerald green waters and blue skies announce the pristine, pollution free freshness of the Burano islands.
Rows of colorful boats give a glimpse of the color fondness of the local population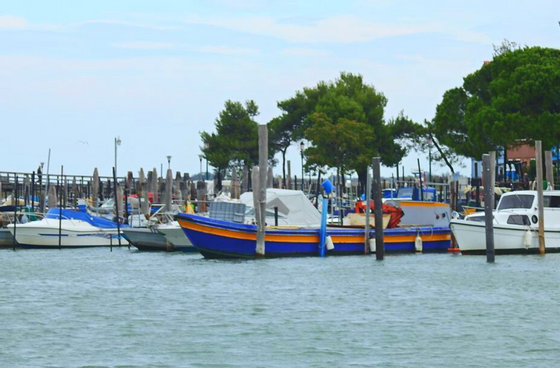 With the photographers on board the ferry going "Ooooh" and "Aaah", their apatite whetted by the colorful vista, we get the first glimpse of the colorful buildings...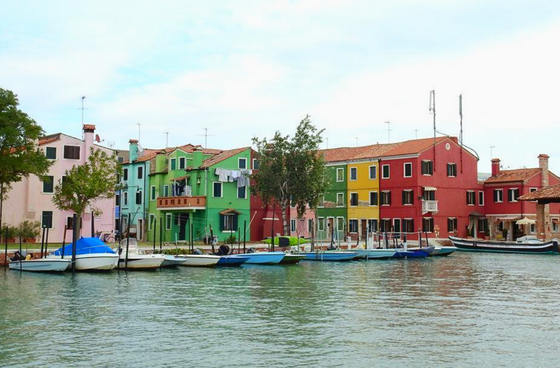 I know we get to see some colorful buildings in cities like Copenhagen or Amsterdam too but that is usually just some buildings by the waterfront. Here, it an island full of colorful buildings and waterways !!
But before we wander off to explore the island more, we get to see the other specialty of this creative place. Lace!
Yes. Burano lace is famous in the world from early 18th century. Though the business had died during 18th century, it was revived in 1872 and formed the mainstay of income for most families on the island as fishing income dwindled.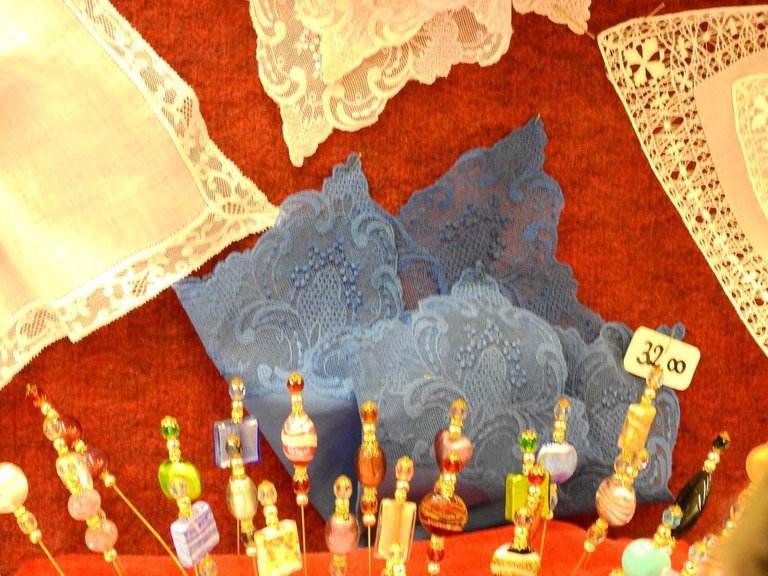 The lace is expensive but seeing the intricacy of patterns and the man-hours that go into it, it is totally understandable.
Ladies of all ages are seen knitting. It is careful, tedious and very artistic work. These ladies have years of experience in lace work and it shows in their deft fingers as they fly around the thread and needles...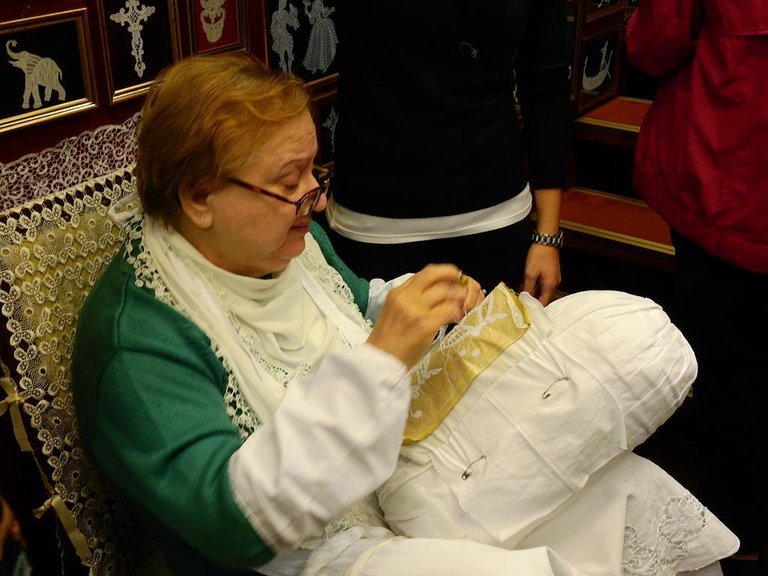 While we get to see lace work art used for utilities like table cloths, place mats and such, there are also lace work art exhibits made purely as art. Here is an example of each type - utility and art...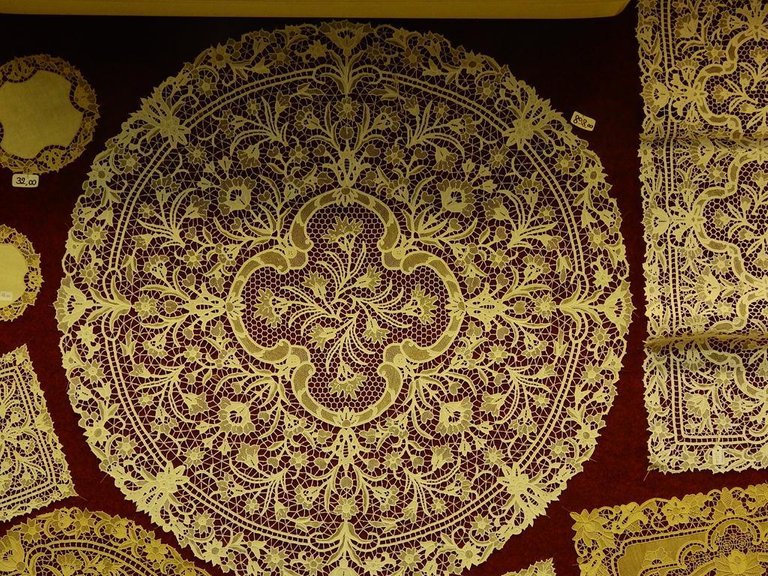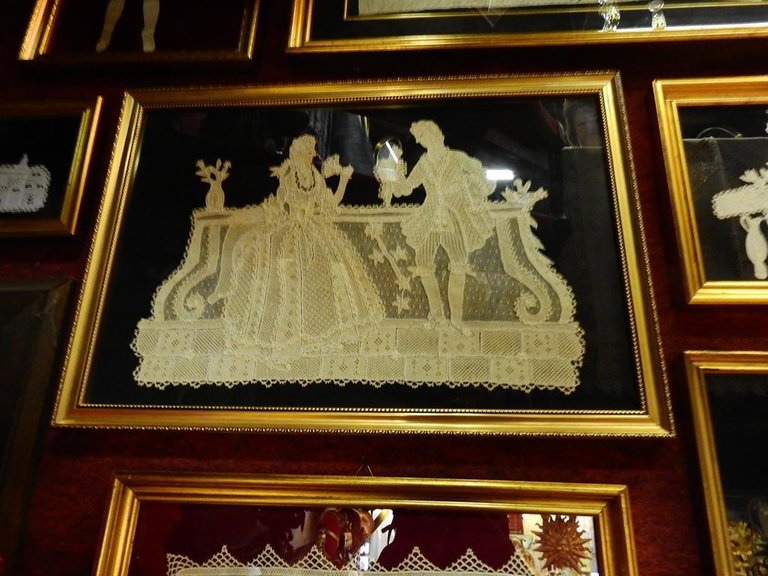 After feasting our eyes on the art and learning a lot about lace work history, we come out to the beautiful buildings once again...
Just when we say what else is new in this place, our eyes are greeted by a beautiful wooden bridge that spans a water canal...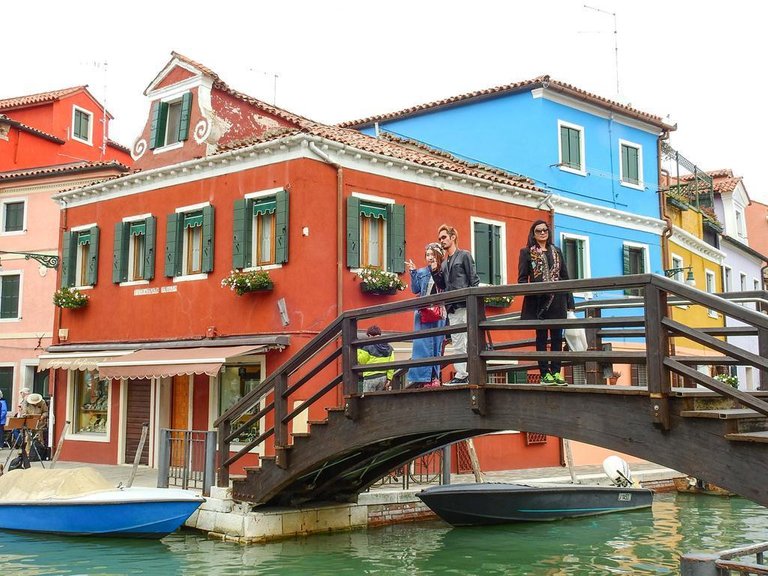 The bridge is centuries old but well maintained. It is a magnet for couples to stand and feel the romance of the whole Burano magic...
As we stroll around the calm and quiet village, we can see many small arches, age old brick constructions hide beautifully decorated roads leading to private properties...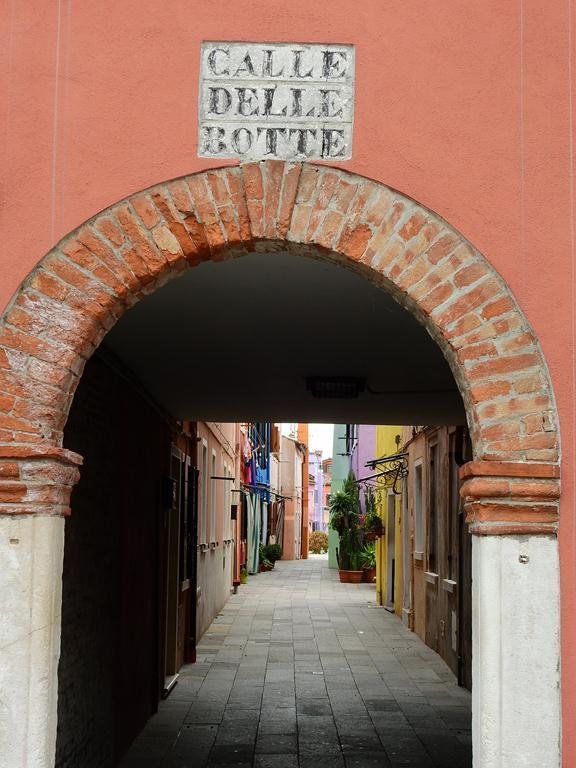 For some weird reason, this one is called 'Calle delle botte' which Google translated as "Street of getting beaten" 😲 I am sure there is history behind it but there was no one around to ask and I did not fancy getting beaten up in the process of finding out 😀
(Just kidding)
So - I only took a better picture of the beautiful street and buildings without stepping in the arch...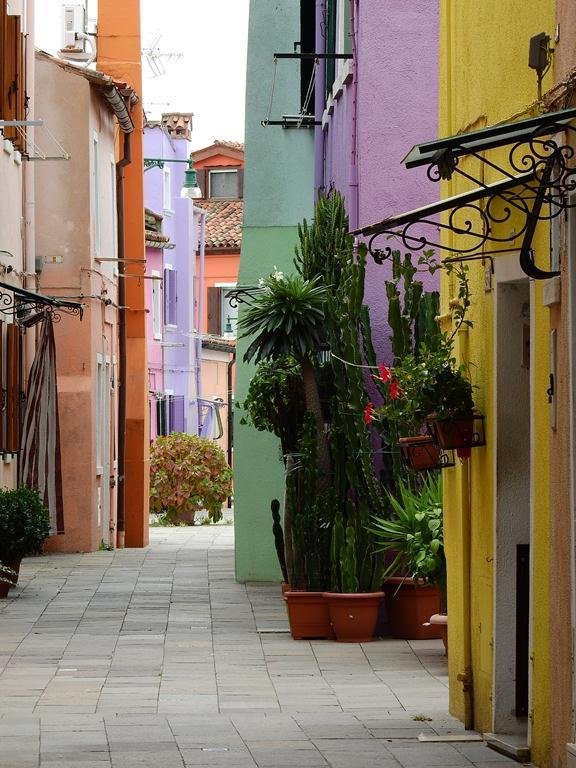 The ubiquitous water ways and color explosion continued along with us - to any corner of the island we moved...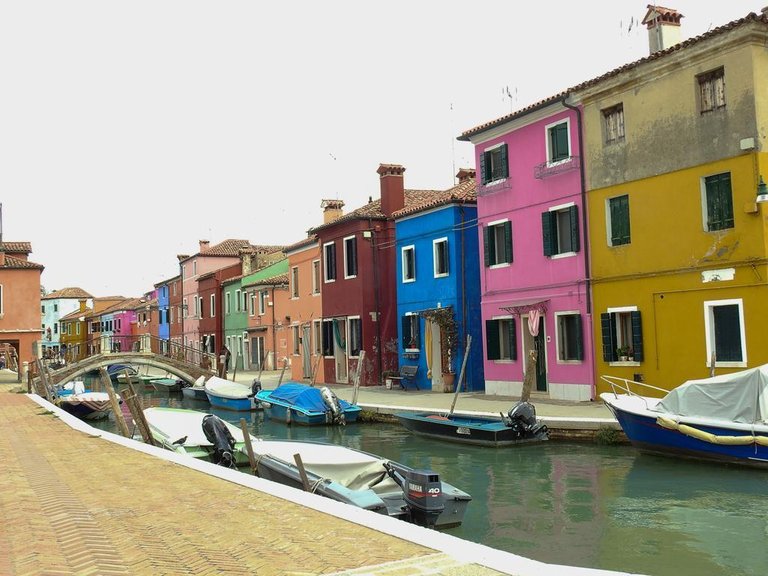 Whether it was the edge of the courtyard, near the shores, like above where buildings were on one side of water or the middle of the island, along the canals, with buildings on both sides of water, it seemed like a brilliant artists palette, with each building showing a different flamboyant color..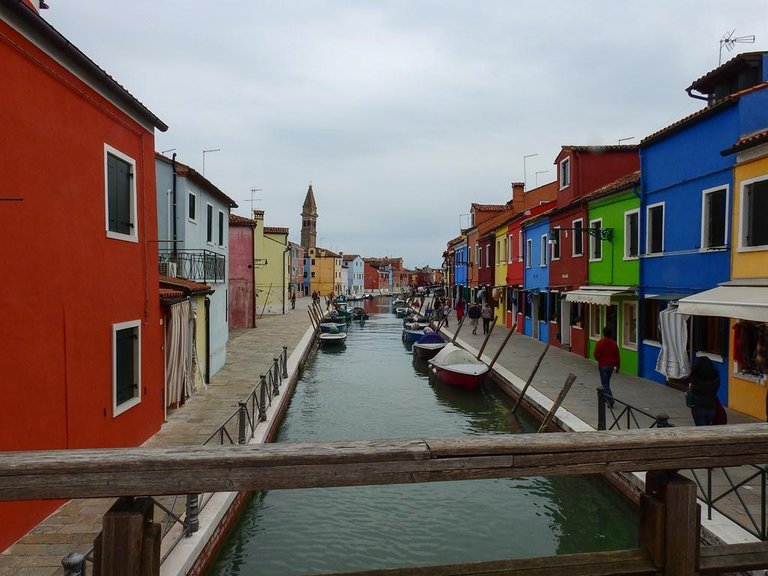 Lost in the colorful surroundings, we lost all track of time and realized suddenly that it was time to head back to Venice.
A lone seagull sitting on an old metal globe, seemed to bid us a silent goodbye as we left Burano islands with memories that will last us a lifetime...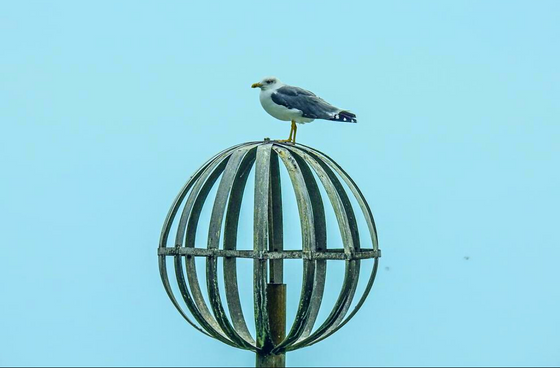 I never wanted to part with the old world charm and explosion of colors in Burano. The photographer in me screamed for more but alas, our scheduled time there was over... We all have to keep moving on, though our heart tells us not to, in trips like this and in life - don't you think?
I am not so great at travel blogs but I but will certainly share my experience of rest of Venice, another magical island (Murano) and many other destinations soon. Those places deserve a mention and a mark of respect from me.
Cheers. I hope you enjoyed the glimpses of Burano through my eyes. I am a newbie for travel blogs. I look forward to your comments and suggestions.
Have a nice day everyone. Cheers!