Apollo: Masterworks in Jazz, indeed.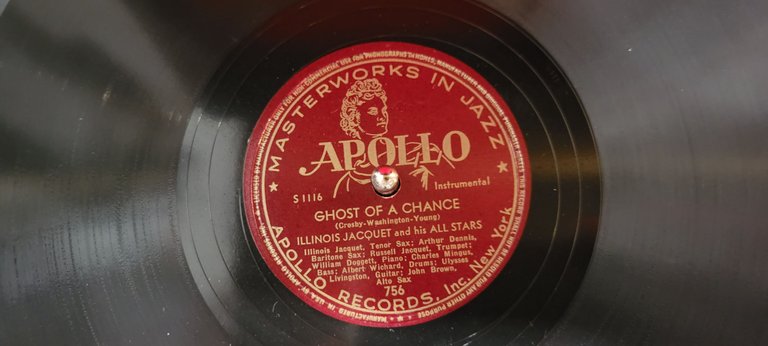 Apollo Records was a record label that was founded in 1944, it focused on producing and distributing African American music, specifically gospel, blues, and jazz. During the era of segregation, many African American musicians had limited opportunities to record and distribute their music, but Apollo Records provided a platform for them to showcase their talents and reach a wider audience.
I have very few of these records. In fact, I have precisely 3 of them. Sadly, the records that I do have are incredibly staticky and sound surprisingly awful. This one listed, by Illinois Jacquet, is a great song, and should sound like this:
1945 (the year of publication of this record) isn't quite "Antique", but it is still a 78 rpm record, so it counts as Vintage.
In addition to gospel and blues, Apollo Records also released jazz albums, featuring artists such as Dizzy Gillespie, and Louis Armstrong. These are big, big names in the jazz and swing circles.
---
Previous Record Labels:
---
(c) All images and photographs, unless otherwise specified, are created and owned by me.
(c) Victor Wiebe
---
About Me
Sometimes photographer. Wannabe author. Game designer. Nerd. 
General all around problem-solver and creative type.

---
Blind Skeleton

Online Radio: https://blindskeleton.one/radio/
Three Tune Tuesday Live Stream: 12:00pm (noon) EST
Frogs of War Games

Tidwick

The Feet Community

What I Learned Today